Parts List and Build Notes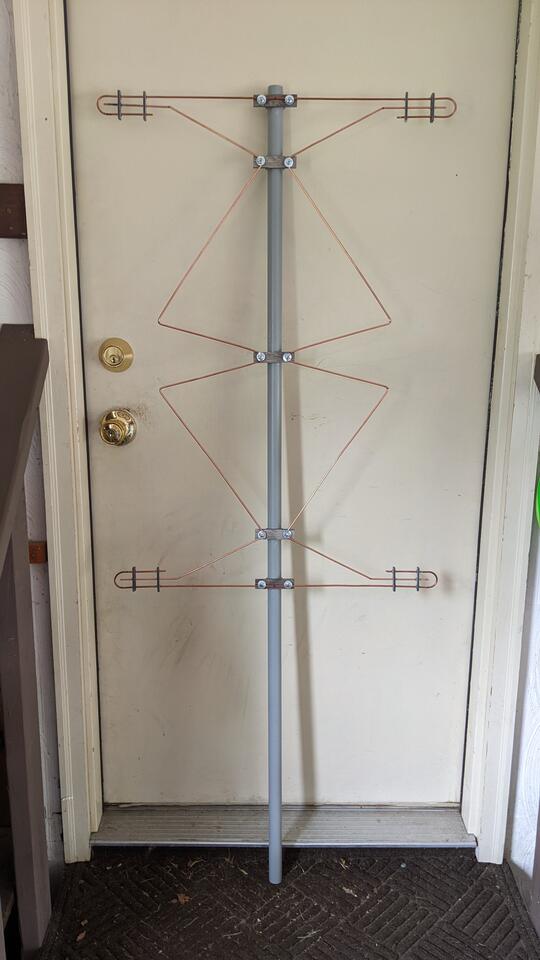 I tried to make it so that the parts and tools required to put the antenna together could be purchased at the same time, in one of the big-box hardware stores that are all over the US and Canada. There are two small parts, the Narod spacers and the clamping brackets, that I couldn't find pre-made. Luckily, I found a suitable material in the flooring isle for making them on the cheap, and they aren't hard to fabricate using hand tools like a drill and a back saw. Everything else is "off the shelf", and only the wire needs cutting and bending.
I'm not going to make a list of whatever hardware you need to mount this antenna to your home. I used a cheap j-pole. You might want to use a tripod, or a chimney strap. Or, if you want to use the antenna inside instead of outside, maybe you could glue up a PVC stand. The folded over top section is a safety feature! If you set it up indoors, there are no sharp pointy bits that could put an eye out. Putting it outside and high in the air is a lot better though. How you mount it and how you get the coax from the antenna to your set is up to you. I do recommend using a signal amplifier of some kind, however. The one I've listed is perfectly usable, and was available at the big box. You can almost certainly find a better and cheaper antenna amp if you look around, possibly on-line.
Here is the parts list that I put together. There's no need to be brand loyal here, parts is parts, and you may even have a lot of this stuff already laying around, like I did. If you want to follow along and build an antenna, rummage through your hoard or run to the store, and collect up this pile of stuff.
Jeffrika 7 Parts List:
Prices are from June 2023, at a midwestern Big Box hardware store.
Basic Parts List ($36.24):
#8 AWG Copper (25ft roll), 1x, $16.48
Transformer 75/300, 1x, $4.49
5pk 3/4" PVC Cond Strap, 1, $2.08
Grip Fast® 1/4" Grade 2 Zinc Flat Washer - 18 Count, 1x, $1.05
Grip Fast® #8 Grade 2 Zinc Flat Washer - 75 Count, 1x, $1.05
Grip Fast® #10-24 X 1" Combo Drive Zinc Round Head Machine Screw - 9 Count, 1x, $1.14
Grip Fast® #10-24 X 3/4" Combo Drive Zinc Round Head Machine Screw - 10 Count, 1x, $1.14
RidgePlex Rigid Vinyl Plank Sample, 2x, $0.00
Gardner Bender® 8" Black Cable Ties - 15 Pack, 1x, $1.33
3/4" x 5' Schedule 40 PVC Conduit, 1x, $7.48
Adhesives, if you don't already have them ($7.98)
Gorilla® Glue Super Glue Gel 2 Pack - 0.22 oz., 1x, $4.44
Oatey® All Purpose Cement - 4 oz, 1x, $3.54
Suitable pre-amp, if you don't already have one ($37.98)
Antenna Signal Amp, 1x, $30.99
3' RG6 Quad Coax Cable, 1x, $6.99
Other Useful tools for the build.
Wooden Yard Stick
Diagonal Wire Cutting Pliers
Two Linesman Pliers, or two small adjustable wrenches, for bending wire.
Screwdriver
3/8" Crescent Wrench or nut driver
Drill motor and bits
Miter Box and Back Saw
Beer, Two Hearted Ale or Labatt Blue.
Measuring Calipers
Measuring Tape
Protractor and Angle Finder
Sharpie Marker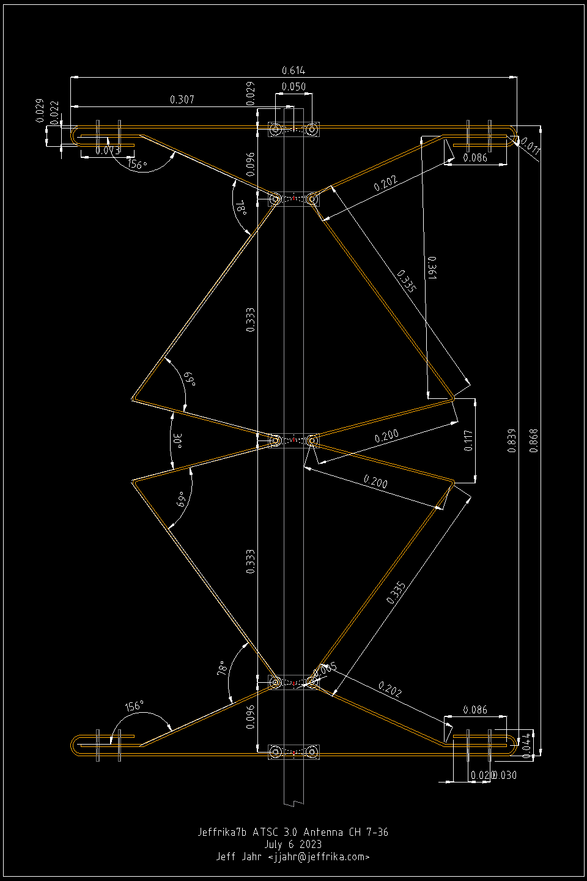 When I built this antenna, I worked from the measurements listed out in the comments section of the .NEC file that I transcribed in pencil handwriting onto a rough sketch. While putting this web page together, I realized how hard that was going to be for anyone else to follow later on, so I did what any good antenna builder would do. I taught myself how to use a computer aided design tool called LibreCAD. I made a drawing of the antenna in it, so that I could make a PDF file of the Jeffrika7b with measurements that you should download and print out.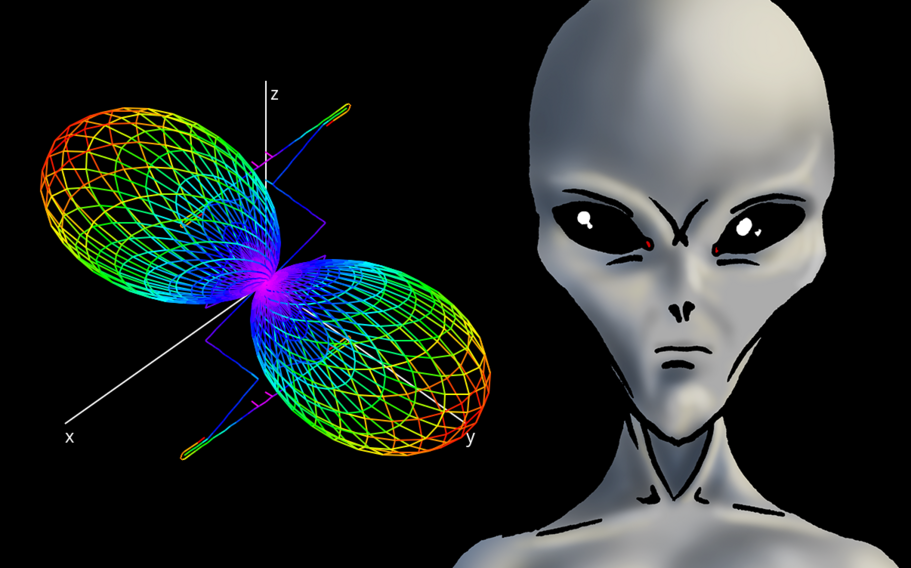 Unfortunately, I'm not so proficient after one day with LibreCAD that I can figure out how to get those measurements to display in anything other than Meters. Changing the units is either something that the Grey Aliens didn't put into the original recovered trinary CAD code, or it has something to do with the LibreCAD "general scaling" preference. All we know for sure is that I still have my Imperial Units pencil sketch, and you are stuck with a CAD rendering in meters. Either build it with a metric tape measure, or pull the conversions out of the NEC file like I did, or take my LibreCAD Jeffrika7b Design file and figure out how to do the conversion, 'cause I'm done trying to make it happen.
Speaking of units, the NEC file calls out the Metric measurements to the nearest millimeter, and the Imperial measurements to the closest 1/16th of an inch. If you build this thing and can get your measurements to be within ±1/8" or ±3mm, it is going to be fine, and that should be pretty do-able. It is all pretty slop-tolerant.
---
⇦ Previous | Next ⇨