Breaking of the Fellowship
Week 4: March 29 - April 4th 2020
(I'm writing this part of the blog on April 16th, six weeks into the COVID lockdown.)
Sunday March 29th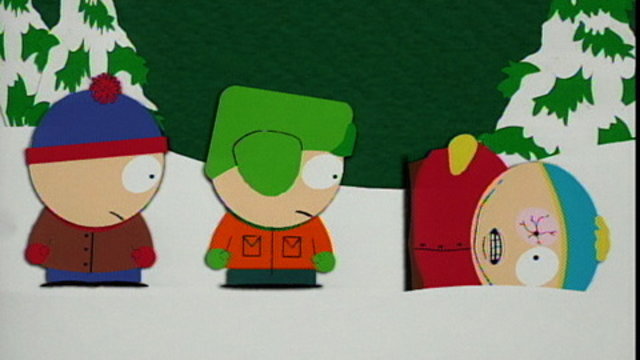 Let me start off by writing that as of April 16th, the day on which I am writing this, none of us have had the COVID. But we did have a little 'further quarantine measures will be enforced' week.
On March 29th, Scott Baio gave Sandy pink eye. Well, maybe not Scott himself, but something did anyway, and that came right at the same time as reports of conjunctivitis being a symptom of COVID-19. Great. Just GREAT. I can't emphasize enough how sweary, loud, and frequent my exclamations of "THAT'S JUST GREAT" got on Sunday.
Anyway, there wasn't much else to do but have her self isolate at her place for the week, and see if anything else developed. Rika did a thorough cleaning of the dining room and kitchen with our supply of Lysol Wipes just in case, but Dad didn't really feel like coming over for a day or two just to let things settle out. To me, it felt like the Breaking of the Fellowship, the last chapter of Tolkien's book "The Fellowship of the Ring".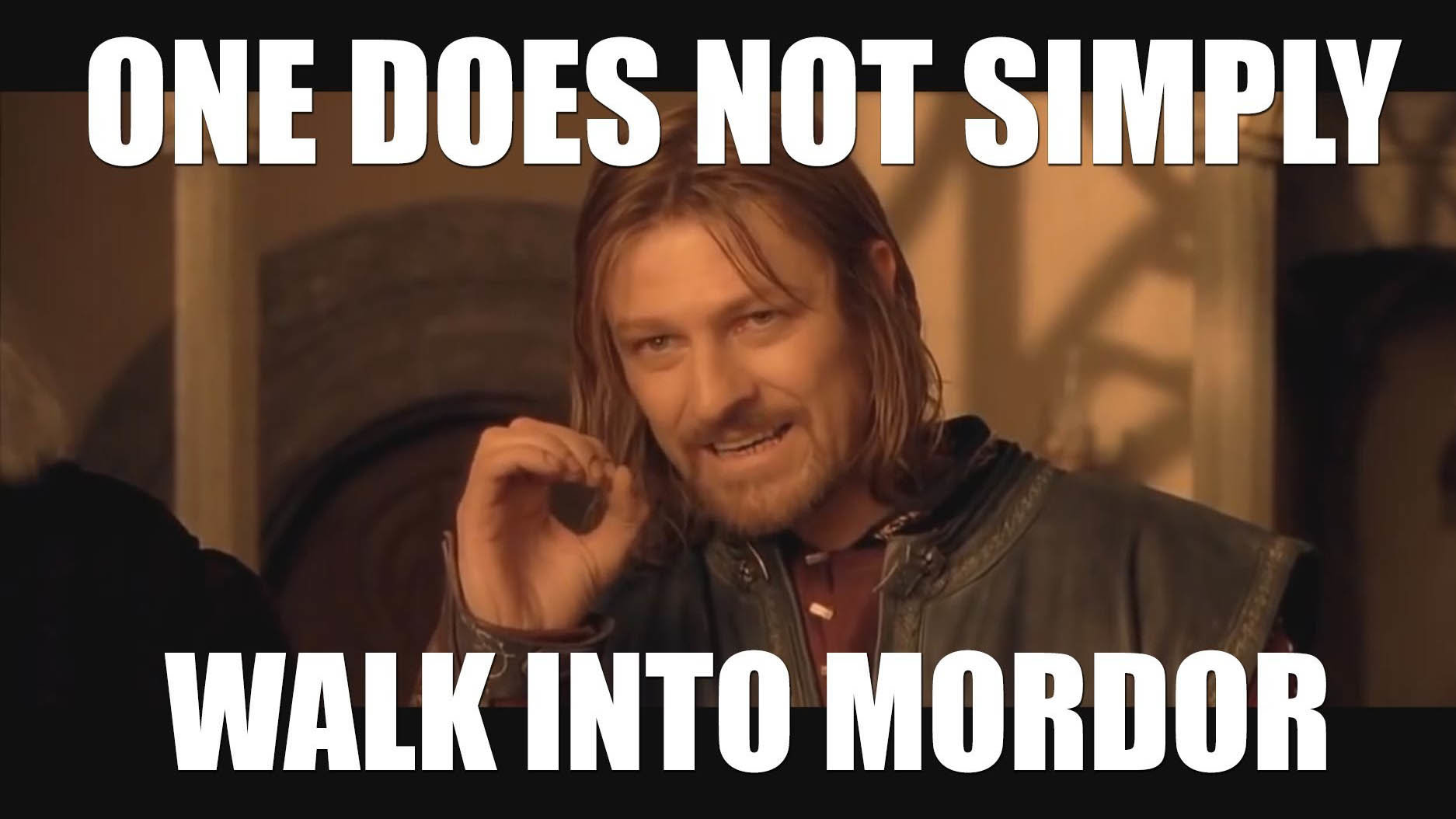 However, just like the plucky little hobbits in that book, it turned out that we weren't beaten yet. That chapter is only about a third of the way through what turns out to be a very long story. Frodo didn't die from the Morgul Blade hit, and Sandy recovered from Pink Eye in a week with no other symptoms.
I'd like to hope that we are more than a third of the way through this COVID crisis, but I'm willing to put up with whatever adventure comes along. As long as nobody "Boromir's Out", and we all get back to the Shire eventually, I'm not going to complain if our story drags on for a few thousand pages more. Besides, I'm kind of looking forward to Sir Ian McKellen playing me in the Peter Jackson film adaptation of this blog.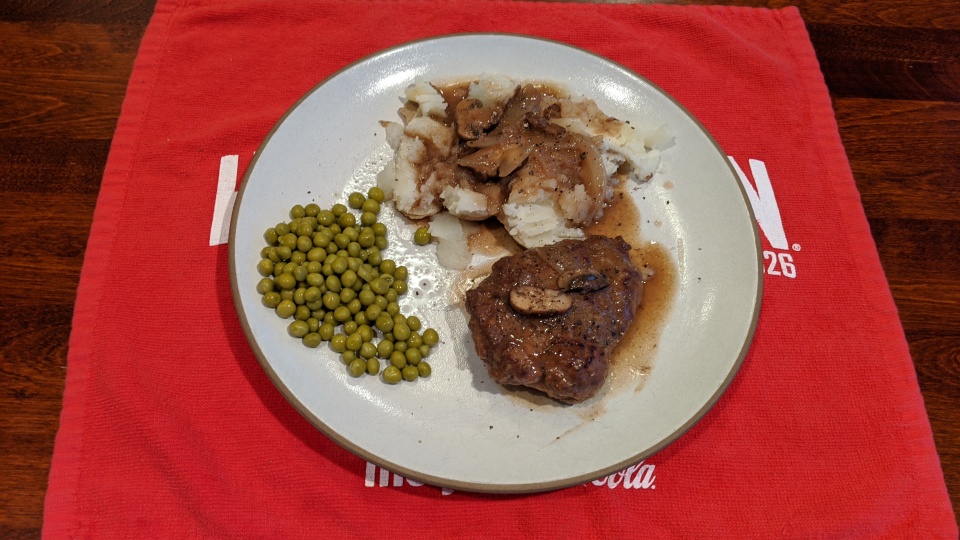 Our usual Sunday dinner having been torn asunder by an abundance of caution, Rika and I had Salisbury Steak by ourselves. I'd never made the dish before. Its supposed to be like a hamburger, padded out with bread crumbs and an egg, slow cooked in mushroom gravy. I thought it would taste good with a little Worcestershire sauce mixed in there, but I was wrong. I heavy-handed the pour, and the steak ended up tasting too, I don't know, British. And not in a "Ian McKellen has a cool British accent" kind of way.
I told myself I was glad that the parents weren't there to critique dinner because it didn't turn out the way I wanted it to... but I know a lie when I tell myself one.
Monday March 30th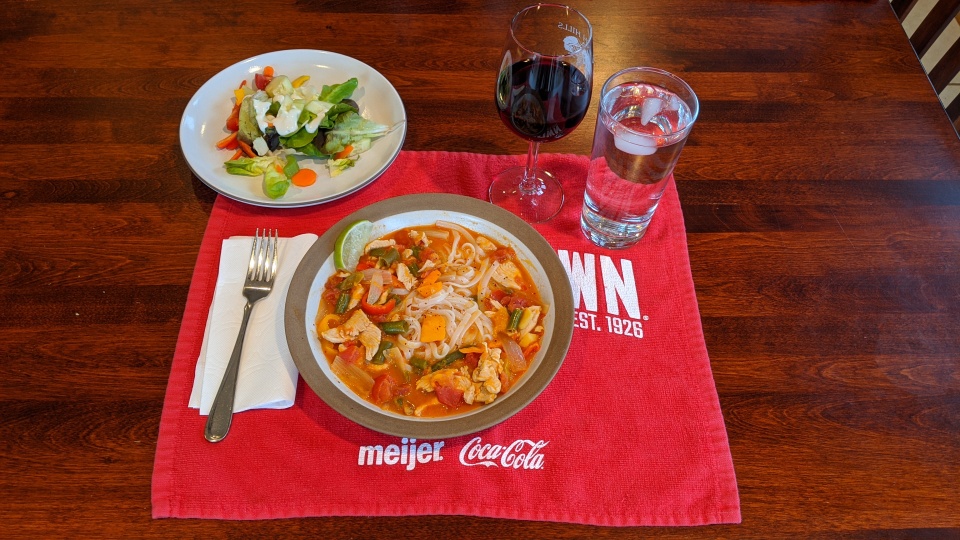 Again trying to do my Home Econ best, I went through the pantry and the back of the freezer to see what was available. With the fellowship broken, and the parents eating at their own places, I figured it was time to do some experimental, 'fun' cooking.
One of the things Rika and I really miss about living in Hayward, in the heart of the Oakland, San Jose, San Francisco Bay area, is all the Thai food. Thai here in Metro Detroit sucks. Rika describes it as "every Thai restaurant in the Bay Area is an 8 to 10. Every one in Michigan is a 4", and I can't argue with her. Don't get us started on the Mexican food out here either. Or the Indian, although that's better than the Thai. Metro Detroit has unbeatable middle eastern food, but if you want a delicious curry, my friend, you are out of luck.
Now, I'm not much of a Thai cook either. If Michigan is a 4, I'm maybe a 5, only because I know what good Thai is supposed to taste like, and I can at least strive for that flavor, even if I can't quite hit it. I found a can of coconut milk and a box of rice noodles in the pantry, and a bag of butternut squash cubes in the freezer. I had a lime, a little bit of powdered galangal, half a little bottle of prepared red curry paste, and some fish sauce left. It wasn't going to be a masterpiece of Thai cuisine without the lemongrass, lime leaves, and basil, but I was going to make it work.
Some chicken, green beans, sweet peppers, onions, and tomatoes later, and it was a respectable dinner. For Thai food, yeah, it was a 5. For "Michigan/California/Thai Fusion" it was an easy 8. For COVID pantry butternut curry... 10 out of 10! Would eat again.
Tuesday March 31st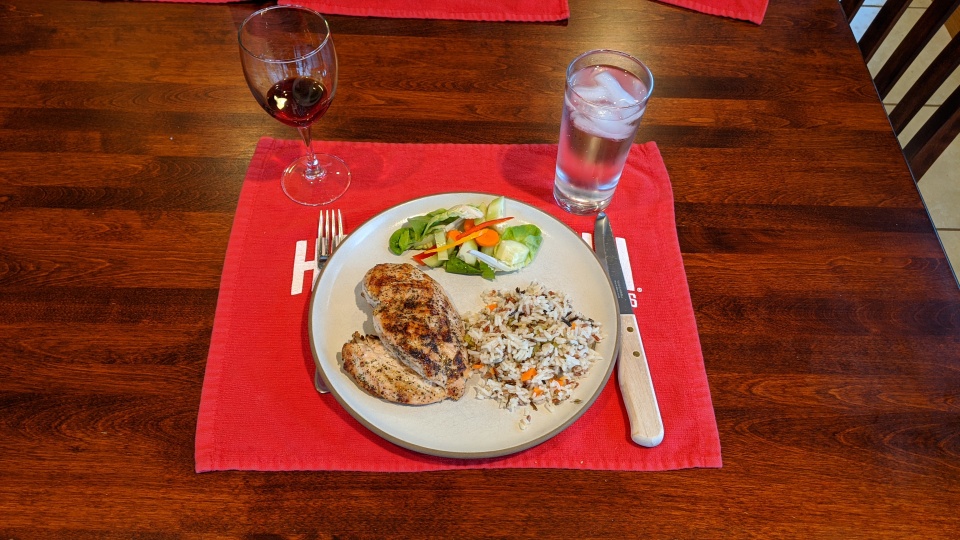 Tuesday was a pretty easy cook job, since it was still just me and Rika eating. Grilled chicken Breast with Cavender's Greek seasoning, some leftover salad, and some mixed grain rice. The rice I used here is "Rice Select Royal Blend", and I really like it. I threw some chopped carrots into this batch along with a little spoonful of chicken bullion, and it comes out just wonderful. Its one of the most zero-effort meals I can make.
Wednesday April 1st
And for my most zero-effort meal (now with so little effort that I didn't even take a picture of it!) I present to you here, for the first time in glorious plain text, The Boiled Corned Beef Dinner!
While there is no picture available, I can assure you that the beef was suitably boiled, suitably thin sliced on the bias to make it suitably tender, and it was suitably pink, a sublime hue that is only attained by the delicate preparation of a suitable corned beef. The little dutch gold potatoes were yellow and creamy. The carrots were a lovely shade of carroty orange, and the green cabbage came out a translucent white, as green cabbages are wont to do when expertly boiled. The shade of the cabbage, freshly plated and steaming, matched that of the prepared raw horseradish with a near perfect eye toward culinary perfection. The hand of an experienced chef was clearly at work for this boil, with even the smallest details, such as adjusting the heat for the 650ft of elevation above sea level in the kitchen, having been accounted for during the preparation of this masterful fare.
Dad came over for dinner because he loves corned beef, and he described it as "pretty good."
Date Night! Thursday April 2nd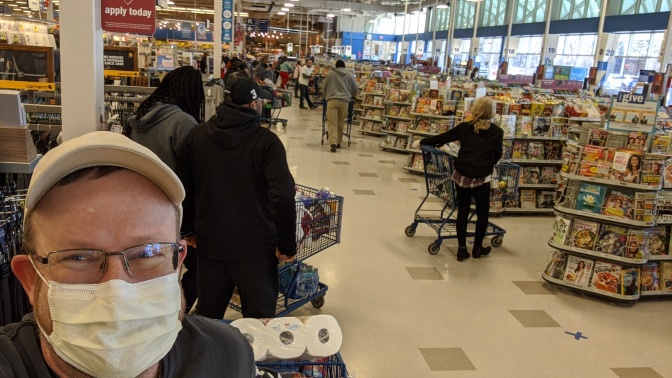 Yep, date night! But first... Some necessary shopping. I got my PPE (that's COVID speak for "Personal Protection Equipment", aka "a face mask") from a Lawson's convenience store in Shinjuku Japan when I was there visiting my nephew last year. I bought face masks as a souvenir because it seemed like half the people in JP were wearing them as a fashion thing, and because during 'leaf season' in Michigan, mulching on the mower is so dusty it can make it downright uncomfortable to breathe. I usually wear a painters mask in the fall, but these Japanese ones looked so much more comfortable, I had to buy some. I had no idea they'd be handy before the grass even started growing.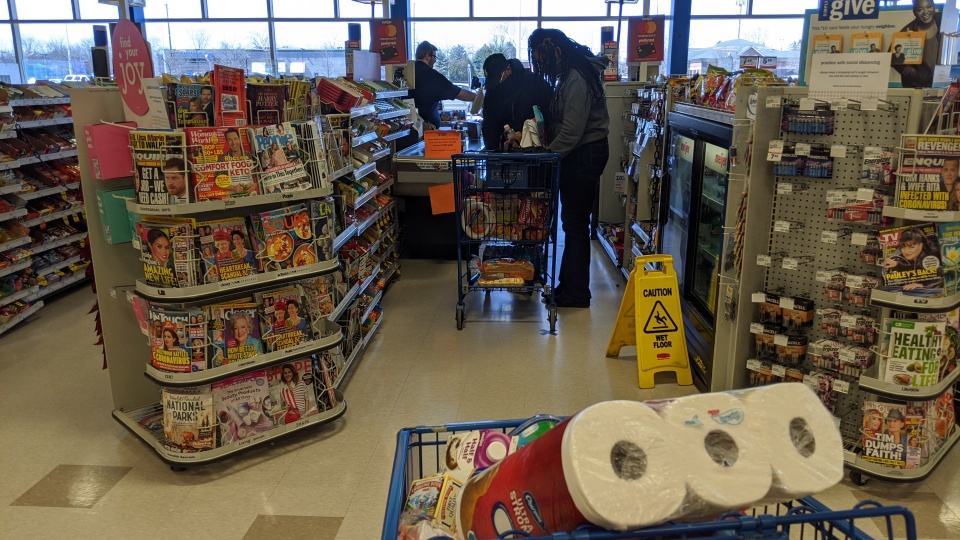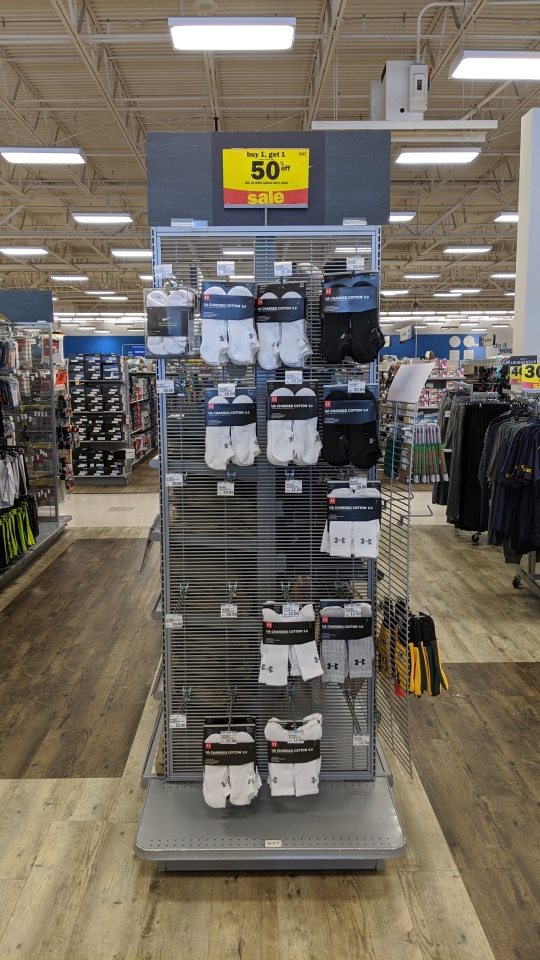 The stores were pretty freaky, in that there were still major shortages of meat, water, and paper products. Also, we started doing "social distancing" inside the stores. They had tape X's on the floor set 6ft apart to show where you were supposed to stand in line, and there was a sign on the check out belt that read "STOP! Please wait to load your order so that wee may sanitize the belt between EVERY order." Checkout takes a lot longer this way, and I was really tired by the time I made it home.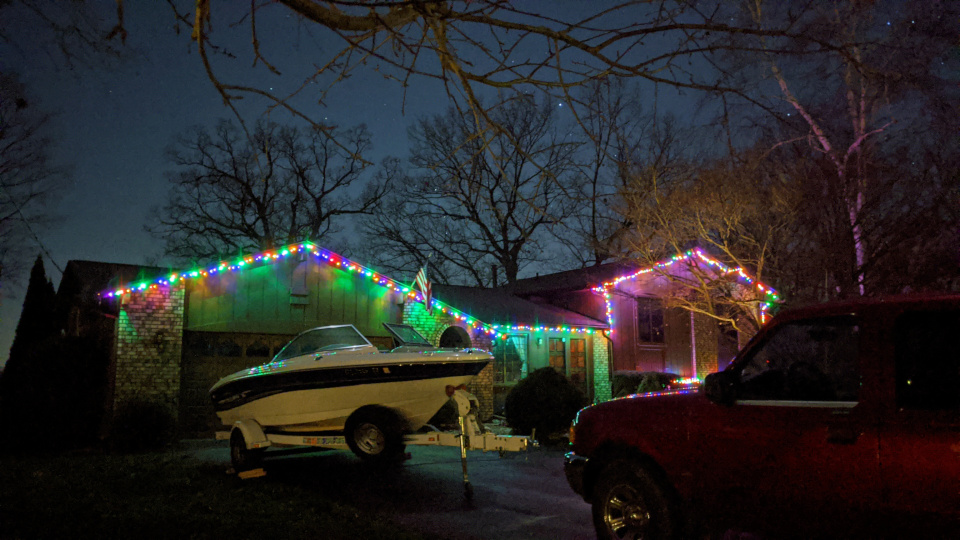 I had also spent most of the day getting the boat out of winter storage. The governor's stay at home order said it was ok to go out and paddle canoes and kayaks for exercise, and the weather was starting to get just nice enough for a lot of people to take that advice. Of course, its still really too early for boating season, and the water is only around 45°F. That's too cold not to have some kind of powerboat rescue craft available for the inevitable kayak flip that I'm sure I'm going to see from my deck. That, and there'd been rumors of recreational power boating getting locked down too, so I wanted to get the boat into the water ASAP in case launching got disallowed. It takes a day to get the boat de-winterized, but it sure looks nice sitting there in the driveway with the Christmas lights on. (The Governor said that if we hadn't taken them down yet, we ought to have our holiday lights on, to brighten things up a bit. Laziness sometimes pays.)
For date night, we ended up having a pizza delivered from Benito's Pizza, which I think is probably the best pizza within delivery radius. It tasted great, it always does.
Friday April 3rd - A Fire on Weathertop
I made some little slider burgers and some fried smashed potatoes for Rika and I to eat. It was a quick meal, because we were planning on going over to Dad's place for a little bonfire to break up the monotony!
What's a fried smashed potato? Well, think of it as an adult version of a tater tot, only not made of potato scraps. Start with little redskin potatoes. Boil them for like 25 minutes until they are very soft. Take them out of the water and let them cool down and dry off a little. Then smash them individually onto an oiled cookie sheet. Put some parmesan cheese, olive oil, and salt on top, then bake them at 450°F until they are crispy.
Just like with home made sphegetti sauce vs. the stuff from a jar, they do taste better than Ore-Ida's Tots... but they are lot more work, and they don't taste a LOT better than Tots from a bag. However, with all the kids being home from school, there's not a bag of frozen Tater Tots left to be purchased, so its our win I guess. We're eatin' the good stuff!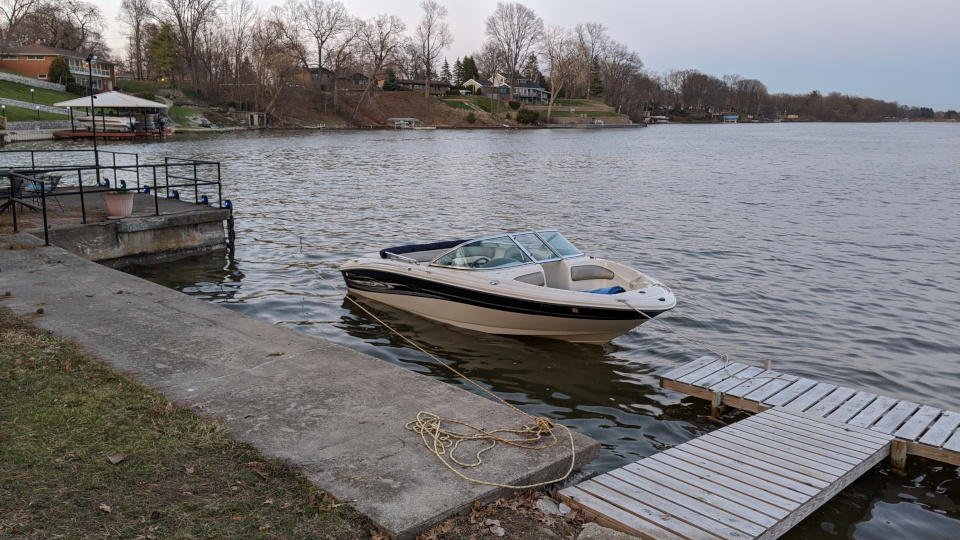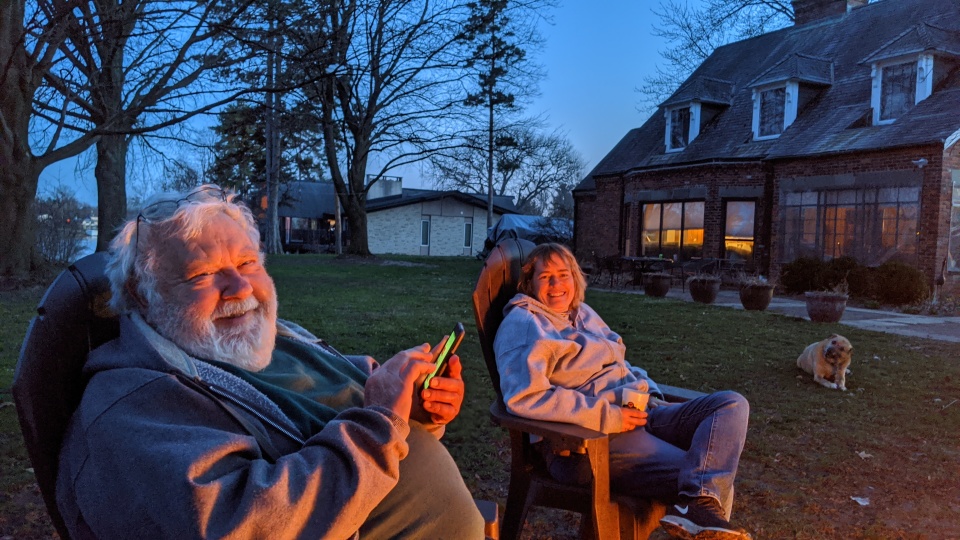 We ate up our Burgers and Tater 'Dults (that's "adult tater tots", and maybe that name does need more work) and went over to Dad's place across the lake for our first boat ride of the year. We lit up the bonfire pit, and started buring up some of those bigger sticks that collect in the yard, ones that we would normally have put in the green waste pickup had that service not been suspended "until further notice" by LOCKDOWN.
We sat up late, listened to some tunes, and stayed warm by the fire. All in all, it was a wonderful evening.
Saturday April 4th
Sometimes there's just not much to say about a day, and that's OK. Saturday was warm and restful, and I spent at least three hours alternately drinking beer and napping on my boat underneath it's canvas lift cover. Later, I made wonderful grilled pork chops, asparagus, and buttered boiled redskins for the three of us- the fellowship still being on different paths due to the all-pinking eye of Sauron and his dreadful minion Nazgûl-Baio.
I'll close out this week with a nice little Hobbit drinking song from The Fellowship of the Ring, because it kind of matched my afternoon.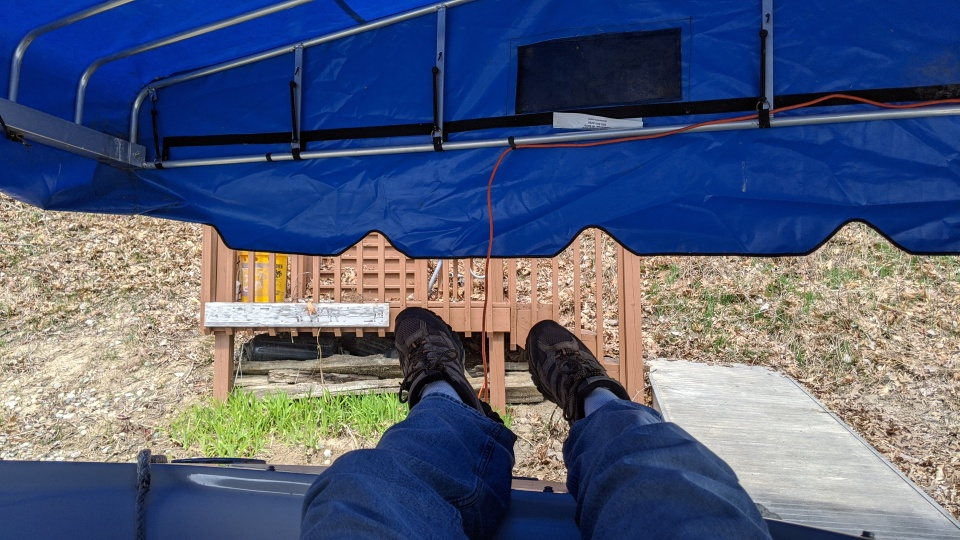 Ho! Ho! Ho! to the bottle I go
To heal my heart and drown my woe.
Rain may fall and wind may blow,
And many miles be still to go,
But under a tall tree I will lie,
And let the clouds go sailing by.
--J.R.R. Tolkien
⇦ Previous | Next ⇨
---